Tostitos® Cheese Balls
These cheese balls are the perfect appetizer for any get-together! Creamy and crunchy, they are sure to impress.
Ingredients
1 bag of Tostitos® Hint of Spicy Queso flavour tortilla chips
⅓ cup of Tostitos® Salsa Con Queso
¼ cup bacon
½ cup kimchi
1 cup cream cheese
4 eggs
½ cup flour
8 cups vegetable oil for frying
How to make it
Temper the cream cheese for 1 to 1.5 hours at room temperature so that the cheese is warm to the touch.
Cut the bacon into small pieces, place them in a small frying pan over medium heat and cook the bacon until it is golden brown. Remove the extra fat from the bacon and cool the bacon bits.
Cut the kimchi in brunoise (smallest pieces possible).
Mix cream cheese and Tostitos® Salsa Con Queso in a mixing bowl until well blended.
Add the bacon bits and kimchi (cut into small pieces) to your cheese mixture. Add a pinch of salt and a good pinch of black pepper. Mix well.
Put the mixture in a pastry bag and make small balls about 2'' in diameter on a baking sheet with parchment paper. Place in the freezer for 2 hours.
After 2 hours, beat the eggs with a pinch of salt.
Take the bag of Tostitos® Hint of Spicy Queso flavour tortilla chips and, with the help of a rolling pin, crush the chips slightly so they are not too small.
Take the frozen cheese balls from the freezer and roll them in the flour, then in the egg mixture, and finish in the crushed Tostitos® Hint of Spicy Queso flavour tortilla chips.
Once you finish this process with the balls, roll them again in the egg mixture and the crushed tortilla chips to ensure that they are all well coated.
Freeze everything again for 2 hours. It is important to make sure the cheese balls are frozen before frying them.
Preheat the oil at 300°F and carefully lower the cheese balls into the oil using a slotted spoon. Only place a few cheese balls in the oil at a time or the oil will cool too much.
Cook the cheese balls in the oil until they are golden brown or for roughly 5 to 6 minutes. Place the cheese balls on top of a napkin to soak up the oil.
Let the cheese balls cool for a few minutes and then serve them hot with Tostitos® Salsa Con Queso.
Serves 5 - 6 people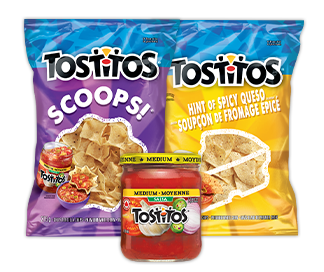 Tasty RewardsTM Members
Get my Coupon*
*Get a Tostitos® Coupon! Coupons available while quantities last