Salmon Candy with Tostitos®
This nacho recipe uses a fusion of west coast salmon and Japanese flavours for a fun, unique appetizer.
Ingredients
1 bag of Tostitos® Restaurant Style tortilla chips, placed on its side and cut open the length and opened like a bowl
1 large egg yolk
1 tbsp rice wine vinegar
1 tbsp lime juice
Pinch of salt
1 tbsp chili garlic sauce
1 cup canola or grapeseed oil
2 lbs candied salmon
½ cup green cabbage, shredded finely
¼ cup pickled jalapeños
1 tbsp toasted sesame seeds
2 tbsp tare sauce (teriyaki sauce)
½ tsp togarashi Japanese spice blend
5 green onions, sliced thinly into rounds

How to make it
Make the spicy mayonnaise by combining egg, rice wine vinegar, lime juice, salt and chili garlic sauce in a jar.
Use an immersion blender to incorporate the ingredients until you have thick creamy sauce.
Cover and place in the fridge. This mayonnaise can be kept in the fridge for up to a month.
To make the nachos, sprinkle shredded cabbage onto Tostitos® Restaurant Style tortilla chips. Add candied salmon and as many slices of the pickled jalapeños as you would like on top.
Drizzle 2 tbsp of the spicy mayonnaise and tare (teriyaki sauce) on the tortilla chips and top with toasted sesame seeds, togarashi and sliced green onions.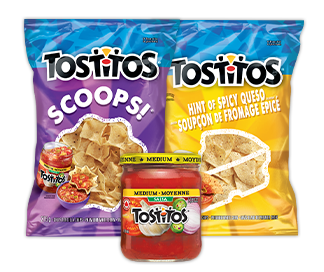 Tasty RewardsTM Members
Get my Coupon*
*Get a Tostitos® Coupon! Coupons available while quantities last