Nashville Hot Chicken Nugget Nachos
Spice up your nacho game!
Ingredients
4

tbsp Tostitos® Extra Hot salsa

1/2

jar Tostitos® Salsa con Queso

1

tsp cayenne pepper

2

skin on (or skinless) chicken thighs cut into quarters

1/2

cup buttermilk

1/2

cup all purpose flour

1

tsp salt plus extra salt to season completed dish

2

cups frozen crinkle-cut fries

1

cup shredded orange cheddar cheese

1

jalapeno, sliced

1/4

cup melted butter
juice from

1/2

lemon

2

pickles cut in rounds (about 12 slices)

4

cups canola oil
heavy bottom pot
digital thermometer
How to make it
Preheat oven to 425F.
Empty one bag of Tostitos® Restaurant Style tortilla chips onto a baking sheet and cover with shredded cheddar. Set aside.
Preheat the canola oil in a heavy bottom pot and bring to 350F in temperature. Carefully add fries to oil and let fry until crispy, about six minutes. Safely remove the fries from the oil using tongs or a slotted spoon. Place the fries on top of the nachos, top with Tostitos® Salsa con Queso and sliced jalapeños and bake for 8-10 minutes.
Meanwhile, place the pieces of chicken in buttermilk and fully submerge for a minimum of 2 minutes, or up to an hour. In a bowl, season your all purpose flour with 1 tsp salt. Transfer the chicken to your bowl of flour and toss until coated. Using your hands, squeeze the chicken to help the flour coating stick to the chicken. Using the same heavy bottom pot and oil as the fries, bring oil to 350F and carefully add chicken to oil, frying about 6-8 minutes or until cooked through. Safely remove crispy pieces of chicken from oil and transfer to a bowl.
In a small pan or pot, melt 1/4 cup butter, juice from half a lemon and four tbsp Tostitos® Extra Hot salsa. Drizzle the melted butter and Tostitos® Extra Hot salsa mixture over the fried chicken and sprinkle 1/2 tsp of cayenne over the chicken.
Remove hot nachos from the oven. Top with pieces of the saucy fried chicken nuggets and slices of pickles. Season with a pinch of salt and the remaining 1/2 tsp of cayenne and serve.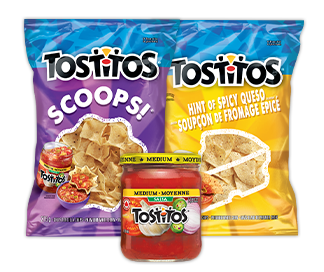 Tasty RewardsTM Members
Get my Coupon*
*Get a Tostitos® Coupon! Coupons available while quantities last