Mango Pineapple Fried Rice
Get some fresh crunch with this fun twist on pineapple fried rice.
Ingredients
3

tbsp Tostitos® Mango Salsa

1

pineapple cut in half lengthwise, with pineapple meat removed and cut into small pieces

4

green onions, bulb separated from green stems and finely chopped

2

tbsp fresh ginger, finely chopped

2

tbsp fresh garlic, finely chopped

1/4

cup finely chopped carrot

2

tbsp canola oil

½

cup soy sauce

1

cup cooked and cooled white rice
20 cooked and cooled small shrimps, deveined and shelled
How to make it
Heat a large non-stick pan, cast iron or wok on high heat, and add 2 tbsp of canola oil to the hot pan. Add your chopped ginger, garlic, carrots and white bulb of the onion and mix thoroughly until ingredients start to caramelize and soften, approximately 2 minutes.
Once ingredients have softened, add in the pineapple and mix for another 1 to 2 minutes. Once pineapple starts to release its juices, give it one more mix and then add in ½ cup of soy sauce and mix well, coating all the ingredients in the pan; cook another 1 to 2 minutes.
Add in 3 tbsp of Tostitos® Mango Salsa and your cooked shrimp to your pan and mix to combine. Next, you are going to remove about a ¼ cup of the sauce and shrimp from the pan and reserve it for later for topping. Add in your 1 cup of pre-cooked rice, mix and allow the rice to absorb all the sauce. Let it cook for another minute.
Remove the pan from the heat and place all the mixture into both halves of the hollowed-out pineapple. Top each one with a handful of Tostitos® Strips tortilla chips, approximately 5-6 chips, the reserved sauce, and the shrimp. Garnish with finely chopped green onions.
Serves: 3 to 4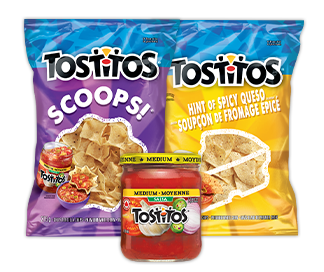 Tasty RewardsTM Members
Get my Coupon*
*Get a Tostitos® Coupon! Coupons available while quantities last