Bahn Mi Nachos
Inspired by the classic Vietnamese sandwich, these nachos are packed with sweet and tangy flavours.
Ingredients
1 bag (275 g) Tostitos® Hint of Lime flavour tortilla chips
2 tbsp vegetable oil
1 lb ground pork 4 cloves garlic, minced
1 tbsp freshly grated ginger
1 tbsp fish sauce
3 tbsp sriracha hot sauce, divided
2 cups shredded mozzarella cheese, divided
1/2 cup boiling water
1/2 cup granulated sugar
1/2 cup rice wine vinegar
1 tsp salt
1 cup matchstick carrots
1/2 cup matchstick cucumber
1 jalapeño, thinly sliced
1/3 cup mayonnaise
1/3 cup cilantro leaves
2 tbsp sliced green onion
How to make it
Heat oil in large skillet set over medium-high heat; cook pork with garlic and ginger, breaking up with a wooden spoon, for 8 to 10 minutes until cooked through. Stir in fish sauce and 2 tbsp of the sriracha.
Spread half of the Tostitos® Hint of Lime flavour tortilla chips on lightly greased large, rimmed baking sheet.
Sprinkle one-third of the mozzarella cheese and half of pork mixture over top. Repeat layers; top with remaining mozzarella cheese.
Bake in 375° F (190° C) oven for 10 to 12 minutes or until cheese is melted.
Meanwhile, combine 1/2 cup boiling water with white sugar, rice wine vinegar and salt. Combine carrots, cucumber and jalapeños in heat-proof bowl or jar. Top with vinegar mixture and let stand for at least 10 minutes or up to 1 hour; drain well.
Stir remaining sriracha with mayonnaise.
Sprinkle quick pickled carrots, cucumber and jalapeño over nachos. Drizzle with sriracha-mayonnaise mixture.
Sprinkle cilantro and green onion over top.
Tip: Substitute ground turkey for pork, or tofu for a meatless option.
Serves: 6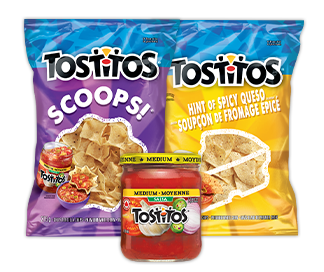 Tasty RewardsTM Members
Get my Coupon*
*Get a Tostitos® Coupon! Coupons available while quantities last