Roasted Eggplant Dip
This tangy and cheesy eggplant dip, served with Tostitos® Restaurant Style Tortilla Chips, makes the perfect party appetizer.
Ingredients
1 bag (300 g) Tostitos® Restaurant Style Tortilla Chips
2 eggplants, chopped
1 onion, chopped
8 cloves garlic, minced
¼ cup (60 mL) olive oil
1 ½ tsp (7 mL) salt
½ tsp (2 mL) pepper
½ cup (125 mL) tahini paste
2 tbsp (30 mL) lemon juice
1 tsp (5 mL) ground cumin (optional)
¼ cup (60 mL) chopped fresh parsley
¼ cup (60 mL) crumbled feta cheese
½ tsp (2 mL) paprika
Lemon wedges
How to make it
Preheat oven to 400°F (200°C). Toss together eggplants, onion, garlic, oil, salt and pepper; spread evenly in single layer on baking sheet.
Bake for about 45 minutes or until tender; let cool slightly.
In food processor, pulse eggplant mixture, tahini, lemon juice and cumin (if using) until smooth. Transfer to shallow bowl; stir in parsley.
Scatter feta cheese over top; dust with paprika.
Serve with tortilla chips and lemon wedges.
Tip: Crumble Tostitos® Hint of Jalapeño Flavour Tortilla Chips on top of dip for a spicy twist!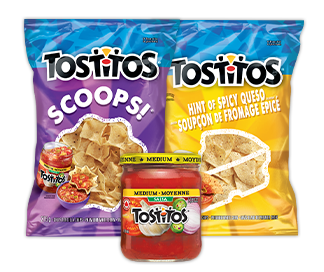 Tasty RewardsTM Members
Get my Coupon*
*Get a Tostitos® Coupon! Coupons available while quantities last