Nacho Average Brunch
Spice up your morning with this folded omelette-quesadilla – it's nacho average brunch.
How to make it
Whisk 4 eggs in a bowl with the Tostitos® Salsa Con Queso and salt until fully blended.
Heat a large non-stick pan with canola oil on medium low. Make sure the canola oil is evenly distributed and coating the pan.
Add the eggs to the pan, and move the pan around to ensure the entire base of the pan is coated in egg, forming one large circular omelette. If needed, cover the pan to ensure the egg is fully cooked without having to flip the omelette.
Using your chorizo or spicy sausage, form two even sausage patties and grill on high heat in a cast iron pan or similar for three minutes per side.
Transfer the egg to a parchment covered baking sheet. Make a cut in the egg starting from the middle (centre) of the omelette and then cut in a straight line down toward 'six o'clock' until you have reached the end of the omelette.
To build your omelette-quesadilla, think of each topping taking up a quarter of your omelette, starting on the top left, quadrant, place the black beans on your omelette with 1 tbsp of Tostitos® Hot Salsa over top. Take the portion of the omelette below the beans, on the left side of your slit and fold the egg up and over the beans. The beans should now be covered by egg and the remaining right side of the omelette is empty. In the top right quadrant, next to the covered bean section, place the cooked sausage patty and top with shredded cheese. Using a spatula, place under your black bean section, and use it to guide another fold, covering the sausage and cheese with the bean section. For the final quadrant, the bottom right corner, to the right of your original slit, place the second patty down, add cheese on top and then fold the top half down over the bottom section. You should have one triangle-shaped quesadilla with three layers: sausage, beans, sausage.
Next, place 1 tbsp Tostitos® Salsa Con Queso on your quesadilla, place 3 - 5 Tostitos® Hint of Spicy Queso flavour tortilla chips on top of your folded quesadilla and cover with more cheese. Place in oven at 400F for 5-6 minutes until cheese is melted and bubbly.
Remove from the oven and serve with a healthy dollop of fresh guacamole and 3 tbsp of Tostitos® Hot Salsa over top. Garnish with chopped cilantro and extra Tostitos® Hint of Spicy Queso flavour tortilla chips on the side.
Serves: 2 to 4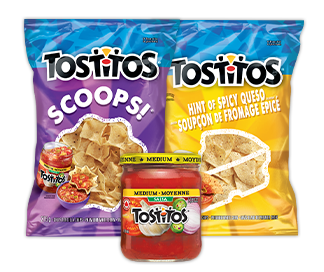 Tasty RewardsTM Members
Get my Coupon*
*Get a Tostitos® Coupon! Coupons available while quantities last