Corn Dog Con Queso
A cheesy, crunchy corn dog that takes this carnival favourite to the next level.
Ingredients
½

cup of Tostitos® Roasted Garlic salsa

8

all-beef hot dogs

8

sturdy popsicle sticks or skewers

1

cup fine cornmeal

1

cup all-purpose flour

2

tbsp brown sugar

1

tbsp kosher salt

2

tsp baking powder

1

large egg

2

cups buttermilk

1 1/2

cups 2% milk

2

tbsp melted butter, cooled to room temperature

1/2

lime

1/2

tsp chopped cilantro

pinch of salt

4

cups canola oil
heavy bottom pot
digital thermometer
How to make it
In a large mixing bowl, mix all your dry ingredients together, whisking the cornmeal, all-purpose flour, 2 tbsp brown sugar, 2 tsp baking powder, and 1 tbsp salt, until fully combined. Roll your hot dogs in the dry mix and set aside. This ensures the batter adheres to the hot dog when you fry it. In a separate bowl whisk your egg with 2 tbsp Tostitos® Salsa con Queso, and room temperature melted butter. Add the buttermilk and 2% milk to the egg mixture and mix to combine. Slowly pour the wet mixture into your dry ingredients, whisking simultaneously until you have a smooth cornmeal batter.
Preheat your oil to 375F.
Crush your bag of Tostitos® Hint of Spicy Queso flavour tortilla chips into medium sized pieces.
Using tongs, fully submerge and roll the hot dogs in your cornmeal batter until fully coated. One by one, carefully add them to the hot oil, moving them around slowly to ensure they don't stick to the bottom of your heavy bottom pot. Fry the corn dogs for 3-4 minutes then flip them in the oil for another 2-3 minutes. When they have reached a golden brown colour, remove them carefully from the oil onto a dish or tray layered with a paper towel to absorb any excess oil. Lightly salt your corndogs, then skewer them. Holding the skewer, dip them into the jar of Tostitos® Salsa con Queso and then roll/cover the corn dogs with the crushed Tostitos® Hint of Spicy Queso flavour tortilla chips.
To garnish, top with chopped cilantro and serve with a side of fresh lime and Tostitos® Roasted Garlic salsa.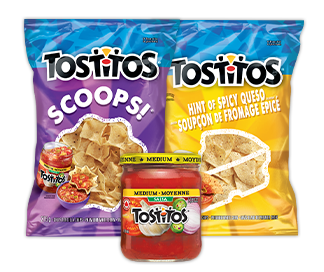 Tasty RewardsTM Members
Get my Coupon*
*Get a Tostitos® Coupon! Coupons available while quantities last