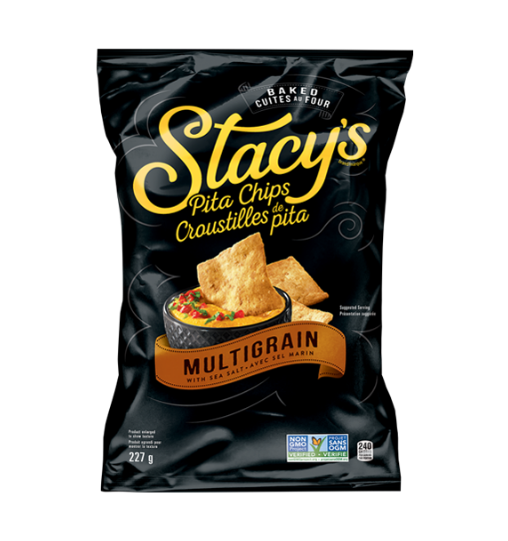 STACY'S® Multigrain Pita Chips
When one grain is simply not enough, crunch the hearty, multigrain goodness of these baked pita chips. Put some multigrain fun into your snack with Stacy's® Multigrain baked pita chips. These multigrain snacks combine the delicious taste of whole wheat flour and crushed rye with the pleasant texture of sesame seeds for a uniquely flavourful snacking experience. Crafted without compromise, they're made with real pita bread and a blend of six grains topped with sea salt. Pair these snacks with a cold, drink for a refreshing treat, or dip them in hummus for a sophisticated treat.
Amount 50 g
% Daily Value
Enriched wheat flour, vegetable oil with rosemary (sunflower or canola oil, citric acid, rosemary extract, ascorbic acid), whole wheat flour, stone ground whole wheat flour, sea salt, grain blend (rye flour, crushed rye, sesame seeds, flax seeds, corn grits, crushed barley, crushed oats, rye sour (rye flour, water, bacterial culture, lactic acid), salt, cracked wheat, millet, rye malt, rolled wheat flakes, malted barley flour, spices, enzymes, ascorbic acid), dried sugar cane juice, sesame seeds, yeast, malted barley flour.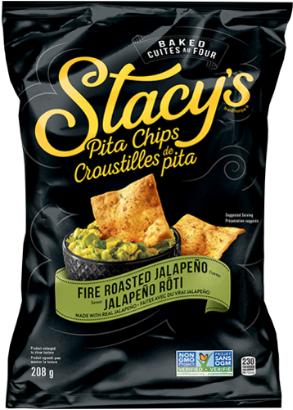 Tasty RewardsTM Members
!
Get my coupon
*Get a Stacy's® Pita Chips Coupon! Coupons available while quantities last