Spicy CHEETOS® Nachos
CHEETOS® are the new tortilla chips. These "nachos" are smothered with spicy sausage ragù and creamy cheese, then piled high with crisp lettuce, tomatoes, jalapeños and a dollop of sour cream.

Ingredients
1 Onion, cut into 1-inch dice
½ Small fennel bulb, tops and tough middle stalk removed, cut into 1-inch dice
1 Celery rib, cut into 1-inch dice
3 cloves Garlic, smashed
Extra virgin olive oil
Kosher salt
1 cup Tomato paste
1 cup Hearty red wine
½ pound Sweet Italian sausage, casings removed
½ pound Spicy Italian sausage, casings removed
1 Bay leaf
1 Thyme bundle, tied with butcher's twine
2 Tbsp. Butter
2 Tbsp. Flour
2 cups Milk
3 cups Grated fontina cheese
2 cups Iceberg lettuce, ½-inch chiffonade
2 Beefsteak tomatoes, cut into ½-inch dice
½ cup Pickled jalapeños
½ cup Sour cream
4 Scallions, finely sliced on the bias
How to make it
Ragù
Purée onions, fennel, celery, and garlic to a coarse paste.
Coat a wide, deep pan with olive oil, add the pureed veggies, season with salt, and bring to medium-high heat. Cook the veggies for about 30 minutes, until all the liquid has evaporated. Stir occasionally.
After a brown residue has formed, add the tomato paste, stirring to combine. Let it brown a little, and continue stirring for 2 to 3 minutes.
Add the wine, stir to combine, and scrape up any remaining brown bits
Add both the sweet and the spicy sausage. Using a spoon to break it up, cook until the meat is brown, 10 to 15 minutes.
Add enough water to the pan to cover the meat by about ½ inch. Stir to combine well.
Add the bay leaves and the thyme bundle. Season with salt. Bring the sauce to a boil and reduce to a simmer. Continue cooking for 3 hours, tasting, seasoning and adding more water as needed.

Cheese Sauce
In a saucepan, melt the butter and whisk in the flour. Cook for 3 to 4 minutes
Whisk in milk and bring the mix to a boil. Reduce to a simmer and cook for 8 to 10 minutes.
Whisk in cheese. Season with salt.

To Assemble:
Turn on the broiler.
Empty the bag of CHEETOS CRUNCHY® snacks into an ovenproof dish large enough to accommodate the entire bag in an even layer.
Spoon a thick layer of the sausage ragù over the CHEETOS CRUNCHY® snacks. Ladle the cheese sauce over the ragù. Place the dish in the broiler until the cheese starts to brown on top.
Top with the lettuce, tomatoes, jalapeños, sour cream, scallions, and CHEETOS CRUNCHY® FLAMIN' HOT® snacks.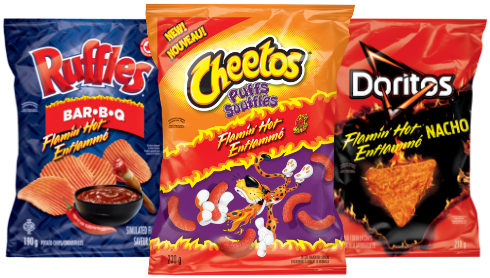 Tasty RewardsTM Members!
Get my coupon*
*Get a Flamin' Hot® Coupon! Coupons available while quantities last