CHEETOS CRUNCHY® Sweet 'N' Spicy Chili Meatballs
Great (meat)balls of fire! You need these CHEETOS CRUNCHY® FLAMIN' HOT®, beef and pork meatballs served in a sweet and spicy chili sauce in your life. And on your plate. And, well, you get it.

How to make it
Set oven to 300ºF.
Mix the pork, beef, scallions, eggs, minced garlic, salt, pepper and chipotle peppers in a large mixing bowl.
Form the mix into 1" balls and set on baking sheet.
Bake for 30 to 40 minutes, until they're glistening.
Coat the meatballs right out of the oven with the CHEETOS CRUNCHY® FLAMIN' HOT® dust (also called "cheetle"!).
Drizzle the sweet chili sauce over the top and around the side.

DID YOU KNOW? That delicious, cheesy dust on your fingers when you enjoy Cheetos is called CHEETLE!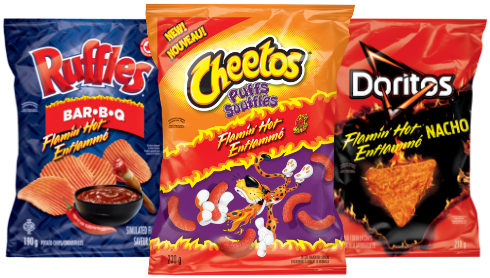 Tasty RewardsTM Members!
Get my coupon*
*Get a Flamin' Hot® Coupon! Coupons available while quantities last