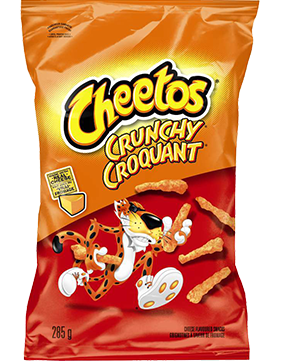 CHEETOS CRUNCHY® Cheese Flavoured Snacks
If you're ready for a Dangerously Cheesy® addition to your next family fun night, get crunching on CHEETOS CRUNCHY®; cheese flavoured snacks! They're perfect for sharing! The bold crunch and real cheese in CHEETOS CRUNCHY®; cheese flavoured snacks are here to give you the cheese taste you love with the crunch you enjoy! Warning! Snack with caution: CHEETOS CRUNCHY® cheese flavoured snacks have been found to be Dangerously Cheesy® and deliciously crunchy with just the right amount of bold flavour you love.
Nutrition

Amount per 50 g serving
% Daily Value
Ingredients

Enriched Cornmeal (Cornmeal, Iron, Niacin, Thiamine, Riboflavin, Folic Acid), Vegetable Oil, Seasoning (Whey, Cheddar Cheese, Vegetable Oil, Corn Maltodextrin, Salt, Whey Protein Concentrate, Monosodium Glutamate, Natural And Artificial Flavours, Lactic Acid, Citric Acid, Colour), Salt.
CONTAINS MILK INGREDIENTS.