Ruffles® Flamin' Hot® Bar-B-Q Burgs
Nothing goes better with a charbroiled burger on the B-B-Q than the CRUNCH of Ruffles® Flamin' Hot® Bar-B-Q potato chips.
Ingredients
4 cups RUFFLES® FLAMIN' HOT® Bar-B-Q Potato Chips, divided
1 1/2 lb lean ground beef
8 oz Swiss cheese block
4 brioche buns, split
1/4 cup mayonnaise
1/4 cup barbecue sauce
4 tsp Dijon mustard
4 slices bacon, cooked
1/2 cup caramelized onions
4 leaves lettuce
4 slices tomato
4 dill pickles, for serving

How to make it
In food processor, pulse 1 cup RUFFLES® FLAMIN' HOT® Bar-B-Q potato chips until crushed. Cut cheese block into 4 large cubes; set aside.
Mix together beef and crushed chips; divide into 4 portions and roll into balls. Press cheese cube into each portion, wrapping meat around it to completely enclose the cheese. Shape each meat portion into 4-inch wide thick patties.
Preheat grill to medium-high; grease grate well. Grill burgers, turning once, for 8 to 10 minutes or until instant-read thermometer inserted into center of meat reads 160°F. Meanwhile, grill buns for 1 minute or until lightly toasted.
Assemble burgers in buns with mayonnaise, barbecue sauce, mustard, bacon, caramelized onions, lettuce, tomato, and some of the remaining chips.
Serve burgers with dill pickles and remaining chips.
Tip: Substitute Cheddar or Monterey Jack for Swiss cheese if desired.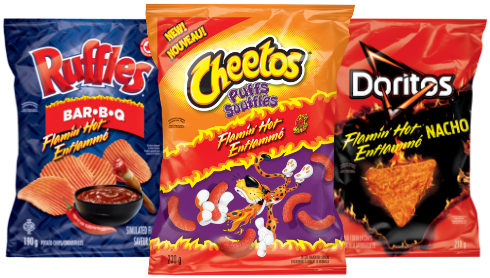 Tasty RewardsTM Members!
Get my coupon*
*Get a Flamin' Hot® Coupon! Coupons available while quantities last