CHEETOS CRUNCHY® FLAMIN' HOT® Wings
If we had a wall of flame, these would make the cut. Our wings are drenched in a delicious chili sauce and then covered in CHEETOS® Flamin' Hot . Trust us — there is nothin' chicken about trying these wings.
Ingredients
SAUCE:
2 cups Gochujang (red pepper paste)
2 cups Rice wine vinegar
1 tsp Ground black pepper
2 cups Soy sauce
3 Jalapeños, chopped
3 tsp Gochugaru (red pepper powder)
1/2 cup Mirin
1 Lemon (zest and juice)
1 Lime (zest and juice)
1 Orange (zest and juice)
1 tsp Garlic
1 tsp Ginger
1 cup Cilantro
Pinch of salt
5 pounds Chicken wings
Fryer oil
Ranch dressing
How to make it
Puree all the wing sauce ingredients in a blender. Set aside.
Pour the CHEETOS CRUNCHY® FLAMIN' HOT® snacks into a blender to pulverize into dust (also called "Cheetle"!). Set aside.
Fry wings at 300 F for about 7 minutes in a cast-iron pan.
Toss in the wing sauce.
Shower wings with the CHEETOS CRUNCHY® FLAMIN' HOT® dust.
Serve with a side of ranch dressing.
DID YOU KNOW? That delicious, cheesy dust on your fingers when you enjoy Cheetos is called CHEETLE!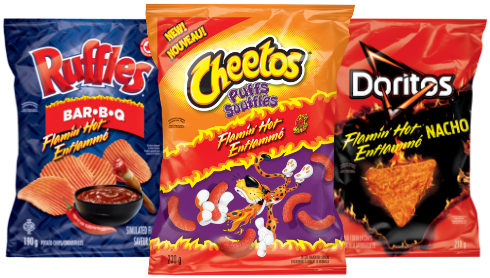 Tasty RewardsTM Members!
Get my coupon*
*Get a Flamin' Hot® Coupon! Coupons available while quantities last