Cheetos Crunchy® Flamin' Hot® and Cheetos® Puffs White Cheddar Mac n' Cheetos®
Spicy jalapeños. Bacon. Cheetos® Flamin' Hot® crust. All in one decadent dish. Need we say more?
Ingredients
2 cups coarsely chopped CHEETOS CRUNCHY® FLAMIN' HOT® cheese flavoured snacks
2 cups pulverized CHEETOS® Puffs White Cheddar cheese flavoured snacks
Extra virgin olive oil
6 slices Bacon, cut crosswise into ½ inch strips
3 Tbsp. Unsalted butter
1 Onion, cut into ¼ inch dice
Kosher salt
½ cup All-purpose flour
4 cups whole milk, plus more as needed
1 pound (454 g) Shells or other short pasta
1 ½ cups Freshly grated Cheddar cheese
1 ½ cups Freshly grated Fontina cheese
½ cup Freshly grated Parmigiano cheese
¼ cup Dijon mustard
Hot sauce, to taste
How to make it
Drizzle a bit of olive oil in a large saucepan, add the bacon, and bring the pan to medium heat. Stir the bacon occasionally. When it's crispy, remove it from the pan and drain on paper towels. Do not discard the bacon fat!
Add the butter and onion to the pan with the fat, season with salt, and cook until the onion is soft and aromatic, 8 to 10 minutes. Add the flour and cook, stirring frequently, for 4 to 5 minutes. Slowly whisk in the milk, season with salt, bring to a boil, and reduce to a simmer. Cook over low heat for 8 to 10 minutes.
Meanwhile, bring a large pot of well-salted water to a boil. Add the pasta to the boiling water and cook for 1 minute less than the instructions on the package suggest. Drain the pasta and reserve.
Add the cheddar, fontina, Parmigiano and pulverized CHEETOS® Puffs White Cheddar to the milk mixture and whisk to combine. Add the mustard and a few shakes of hot sauce and adjust the seasoning if needed, adding a little more milk if the mixture seems too thick. Stir in the cooked bacon and pasta.
Sprinkle with CHEETOS CRUNCHY® FLAMIN' HOT® and put under the broiler until it gets crispy and crunchy.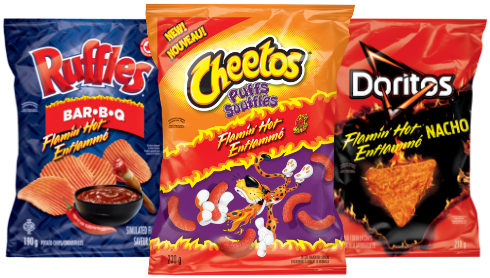 Tasty RewardsTM Members!
Get my coupon*
*Get a Flamin' Hot® Coupon! Coupons available while quantities last