Chef Matt Basile's Bacon & Egg Mac n Cheese
Bacon mac and cheese is getting a crunchy upgrade.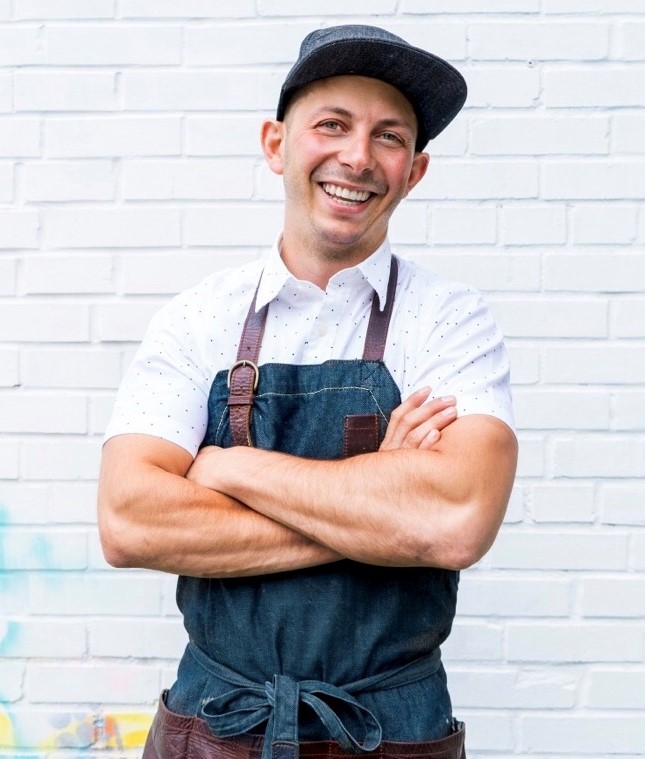 Matt Basile is a Canadian chef and bestselling cookbook author, and the founder of Toronto street food brand, Fidel Gastro's. As the 2021 Tostitos ambassador, Matt will create effortless recipes, which require minimal time in the kitchen, but deliver on flavour and crunch.
Tostitos products have always been a staple in my home, so I am excited to be putting a unique spin on some of my favourite products. Over the course of the year, I'll share simple and approachable recipes that are fun and don't require hours in the kitchen, but will be sure to impress your loved ones. I hope you enjoy my delicious dishes and snacks!
Ingredients
1/2

bag Tostitos® Strips tortilla chips

10

thick slices of bacon

3

eggs

2

tbsp canola oil, divided

2

cups uncooked elbow macaroni

1 ½

cups shredded marble cheddar

1 ¼

cup 2% milk

5

tbsp flour

5

tbsp butter

2

tsp salt, divided

1

tbsp chives, chopped
black pepper for garnish
How to make it
On a wire rack-line baking sheet, bake your bacon at 375F for 12 minutes until crispy. Chop the bacon into large bits and use the excess bacon fat to grease a large cast iron pan.
Bring a medium pot of water to a boil, add 1 tsp of salt and then add macaroni once the water is back to a boil. Cook macaroni for 8 minutes or until al dente. Strain the pasta in a colander and then toss with 1 tbsp canola oil and place on a baking sheet to cool.
Next, melt butter in a large non-stick pot or pan on medium heat. Once melted, remove from direct heat and gradually add in flour, stirring simultaneously with a spoon or rubber spatula. Once a loose paste forms, slowly incorporate the milk into the roux (flour-butter mixture) on medium heat, constantly stirring. Once fully combined, add 1 full jar of Tostitos® Salsa con Queso and incorporate it into the sauce making a salsa con queso cheese sauce for the macaroni. Add the macaroni to the cheese sauce with half of the bacon and mix it all together.
Sprinkle half the shredded cheese onto the cast iron pan and make sure the entire base is covered. Add all the mac and cheese to the pan and evenly spread it around. Place it in the oven at 425F for 15 minutes. Remove it and place half the bag of Tostitos® Strips tortilla chips around the perimeter of the cast iron, then sprinkle the remaining bacon and cheese and place back in the oven for 5 minutes. Ensure you leave a space in the centre for your eggs.
In a non-stick pan heat 1 tbsp oil on medium heat. To ensure an even cook on the eggs, crack the eggs into a bowl first, then pour the eggs from that bowl into the pan. Crack 3 eggs and then add them to your hot pan. Cook until whites are cooked through but the yolks are still runny. Remove pan from the oven and transfer eggs to the centre. Season with salt, pepper and chopped chives, and serve.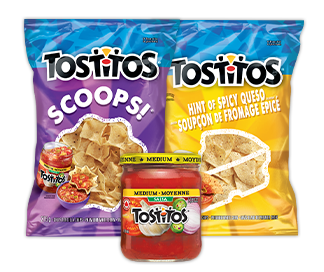 Tasty RewardsTM Members
Get my Coupon*
*Get a Tostitos® Coupon! Coupons available while quantities last