Ultimate Four Cheese Nachos
Create the tastiest Ultimate Four Cheese Nachos, Tostitos® own Ultimate Four Cheese Nachos Recipe with step-by-step instructions. Make the best Ultimate Four Cheese Nachos for any occasion.
Ingredients
1/3

cup Shredded mozzarella cheese

1/3

cup Shredded Provolone cheese

1/3

cup Shredded cheddar cheese

1/4

cup Cold cream cheese, chopped

1/4

cup Chopped sundried tomatoes

1

Jalapeño, seeded and chopped

2

Green onions, sliced

2

tbsp Chopped cilantro

1/2

bag Tostitos Cantina® Extra Thick chips

1

cup Tostitos® Roasted Red Pepper Salsa
How to make it
Preheat broiler to high.
Arrange tortilla chips in layers on pizza pan with mozzarella, Provolone, cheddar cheese and cream cheese.
Sprinkle with sun‑dried tomatoes and jalapeños.
Broil for 2 to 3 minutes, until cheese is melted.
Garnish with jalapeños, green onion and cilantro.
Serve with salsa.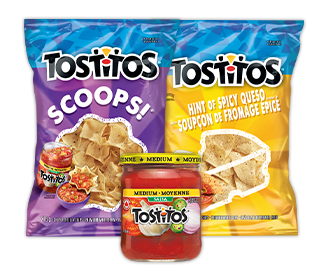 TOSTITOS® Tortilla Chips Coupon Available!
Get my Coupon*
*Coupons available while quantities last