Thai Chicken Taco Bites
Sweet and spicy Thai chicken bites have found their new favourite sidekick with Tostitos® Scoops!® Tortilla Chips.
Ingredients
24 Tostitos® Scoops!® Tortilla Chips
1 cup (250 mL) thinly sliced red cabbage
½ cup (125 mL) cooked corn kernels
2 tbsp (30 mL) finely chopped cilantro
1 tbsp (15 mL) hoisin sauce
1 tbsp (15 mL) peanut butter
1 tsp (5 mL) sriracha hot sauce
1 tsp (5 mL) seasoned rice vinegar
2 boneless, skinless chicken thighs
Salt and pepper
Lime wedges (optional)
How to make it
Preheat grill to medium-high heat; grease grate well.
In small bowl, combine cabbage, corn and cilantro. In separate bowl, stir together hoisin sauce, peanut butter, 2 tsp (10 mL) water, sriracha and rice vinegar until smooth. Set aside.
Season chicken with salt and pepper. Grill chicken for 4 to 5 minutes per side or until no longer pink inside and juices run clear when pierced with fork. Transfer to cutting board; let stand for 5 minutes.
Shred chicken using two forks; toss with peanut butter mixture to coat well.
Arrange tortilla chips on serving platter; fill with chicken mixture, then top with cabbage mixture.
Drizzle with a squeeze of lime juice just before serving (if using).
Tip: Substitute pulled pork or shrimp for chicken if desired.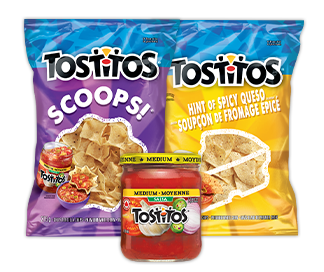 Tasty RewardsTM Members
Get my Coupon*
*Get a Tostitos® Coupon! Coupons available while quantities last