Salmon Cheese Bites
Create the tastiest Salmon Cheese Bites, Tostitos® own Salmon Cheese Bites Recipe with step-by-step instructions. Make the best Salmon Cheese Bites for any occasion.
Ingredients
1/2

cup mascarpone cheese, room temperature

1/2

cup goat cheese, room temperature

1

tbsp chopped fresh dill

1/4

tsp coarsely ground black pepper

3

oz (90 g) smoked salmon, cut into ribbons

40

(1/2 bag) Tostitos® Scoops!® Tortilla Chips

3/4

cup Tostitos® Mild Salsa
How to make it
Stir the mascarpone with the goat cheese, dill and pepper.
Divide evenly between the Tostitos!® Scoops!® Tortilla Chips.
Top with salsa and smoked salmon.
Garnish with additional dill.
Makes 40 bites.
Tip: Save some time and use dried dill instead of fresh dill.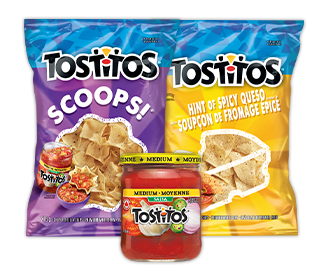 TOSTITOS® Tortilla Chips Coupon Available!
Get my Coupon*
*Coupons available while quantities last