Power Guacamole
Give your guacamole and power boost! Packed with kale, pumpkin seeds and yogurt- snacking has never looked (or tasted) so good!
Ingredients
1

bag (220 g) Simply Tostitos® Organic Blue Tortilla Chips

2

ripe avocados, peeled, pitted and chopped

1

cup (250 mL) chopped kale (ribs removed)

2

cloves garlic, minced

1/4

cup (60 mL) toasted pumpkin seeds

1/4

cup (60 mL) plain 2% Greek yogurt

3

tbsp (45 mL) lime juice

1/2

tsp (2 mL) salt

2

tbsp (30 mL) chopped fresh cilantro
How to make it
In food processor, combine avocados, kale, garlic, pumpkin seeds, yogurt, lime juice and salt to food processor; process until coarsely chopped and mixture comes together.
Garnish with cilantro; serve with tortilla chips.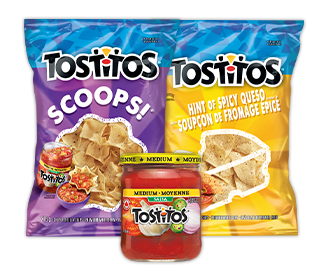 TOSTITOS® Tortilla Chips Coupon Available!
Get my Coupon*
*Coupons available while quantities last