Holiday Baked Brie
The holiday dish that's a little sweet, a little cheesy, a little crunchy and a lot tasty!
Ingredients
2

tbsp Tostitos® Mango salsa

1

wheel double cream brie (300 g – 450 g)

1/2

cup Spanish onions, sliced

1

orange, zested

1/3

cup brown sugar

1/3

cup soy sauce

2

centre cut cauliflower steaks

3

tbsp water

4

tbsp canola oil, divided

2

tbsp dried cranberries, chopped

2

tbsp pecans, chopped

1

tbsp chives, chopped
Maldon salt for garnish
How to make it
Heat 2 tbsp canola oil in a pan on high heat and add sliced onion. Toss onions so the oil fully coats them, then let them sit while cooking for 2-3 minutes. Add the soy sauce to the pan and toss, and cook for another 2-3 minutes. Reduce the heat to low (almost simmer) and add brown sugar, Tostitos® Mango salsa and 3 tbsp water. Let cook until onions absorb all the liquid in the pan, soften and absorb until they're a rich colour.
In a separate pan heat oil on high and place both cauliflower steaks down and cook for 3 minutes per side to get a nice golden brown sear on both sides, then transfer it to an oven at 375F for 10 minutes. Top with brie and caramelized onions and place back in the oven for 5 minutes. Remove from oven and place on a board surrounded by Tostitos® Restaurant Style tortilla chips and garnish with the crushed pecans, chopped dried cranberries, zest from 1 orange, chopped chives and Maldon salt to finish.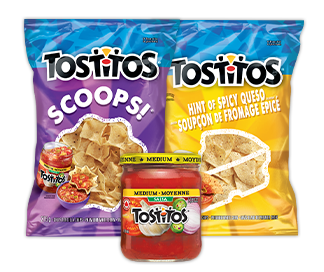 Tasty RewardsTM Members
Get my Coupon*
*Get a Tostitos® Coupon! Coupons available while quantities last