BBQ Beef Chilaquiles
Crispy tortilla chips swimming in fall-apart, slow-cooked beef short ribs, covered with plenty of cheese! A delicious take on a classic Mexican dish
Ingredients
1 bag Tostitos® Hint of Lime tortilla chips
1 jar Tostitos® Salsa Con Queso

5 lbs short ribs with bone

4 cup beef stock

4 tbsp red wine

3 tbsp Chipotle, canned

4 tbsp red wine vinegar

5 tsp salt (but season to taste with final product)

¼ tsp onion powder

3 cloves of garlic, minced

½ tsp ground black pepper

¼ tsp oregano

1 tsp cumin

¼ tsp smoked paprika

½ cup tomato paste

4 tbsp olive oil for searing and frying eggs

5 eggs

2 avocados, diced

1 bunch of cilantro

1 lime wedge

6 cherry tomatoes, halved
How to make it
Combine salt, onion powder, black pepper, oregano, cumin, and paprika together in a bowl to make seasoning mixture.

Pat short ribs dry and season with mixture.

Sear short ribs in oil until they're evenly brown. Set them aside in a large roasting pot.

In the same pan used to sear the short ribs, add 1-2 tbsp olive oil and sauté the garlic (do not let brown).

Add the canned chipotle and tomato paste and use the vinegar and wine to remove the remains from the bottom of the pan.

Pour this mixture over the short ribs and add stock, covering the pan with lid or foil.

Cook short ribs at 350F for 3-4hrs or until meat is tender and falls off the bone.

Remove short ribs from liquid, keep them warm while you strain the sauce into a pot and reduce it to a consistency that coats the back of a spoon.

Season to taste if necessary. Set aside and keep warm.

How to finish the dish:
Place the short ribs in the center of a large platter 14-16 in with bones standing upright.

In a large bowl, toss ¼ of the Tostitos® Hint of Lime tortilla chips in the short rib sauce.
Pour the rest of the ¾ bag of Tostitos® Hint of Lime tortilla chips around the shortribs on the platter.

Top with the sauce coated chips.

Fry the eggs sunny side up with 1-2 tbsp olive oil.

Garnish the top of the chips with diced avocado. Top with the fried eggs around the short ribs on the chips. Spoon the heated Tostitos® Salsa Con Queso evenly on the chips. Top with tomato halves, cilantro and lime wedges.

Enjoy!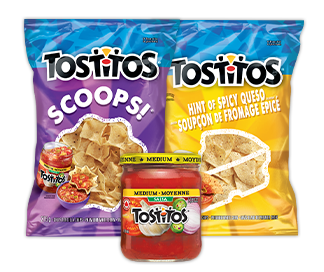 Tasty RewardsTM Members
Get my Coupon*
*Get a Tostitos® Coupon! Coupons available while quantities last