FLAMIN' HOT® Spicy Fried Chicken Burgers
This loaded fried chicken burger delivers a tasty FLAMIN' HOT® heat that can't be beat.
Ingredients
8 cups CHEETOS® Puffs FLAMIN' HOT® Cheese Flavoured Snacks, divided
4 boneless, skinless chicken breasts
2 cups buttermilk
1 cup all-purpose flour
4 brioche buns, split
Vegetable oil, for pan-frying
2 cups coleslaw mix
1/4 cup mayonnaise
2 tbsp cider vinegar
1 clove garlic, minced
1 tbsp Dijon mustard
1 tsp honey
1/2 tsp salt and pepper
16 pickle slices
4 tomato slices
4 sliced red onion rounds

How to make it
In food processor, pulse 6 cups CHEETOS® Puffs FLAMIN' HOT® cheese flavoured snacks until finely ground.
Working with one at a time, place each chicken breast between 2 sheets of plastic wrap and pound evenly with meat mallet to 1/2-inch thickness; set aside.
Stir together buttermilk and 1/2 cup ground Puffs. Marinate chicken in buttermilk mixture in refrigerator for at least 4 hours or up to overnight.
In shallow dish, stir together remaining ground Puffs and flour until well blended.
Remove chicken from marinade, discarding marinade. Working with one piece at a time, dredge chicken in ground Puffs mixture. Transfer to parchment paper–lined baking tray; let stand for 10 to 15 minutes or until coating is slightly dry.
Pour enough oil into large high-sided skillet to come 2 inches up side; heat over medium heat until instant-read thermometer reads 350°F. Fry chicken for 4 to 5 minutes per side or until golden brown and cooked through. Using slotted spoon, transfer chicken to paper towel–lined tray.
Meanwhile, whisk together coleslaw mix, mayonnaise, vinegar, garlic, mustard, honey, salt and pepper.
Assemble burgers in buns with coleslaw, remaining Puffs, pickles, tomatoes and red onion rounds.
Tip: For an all-dressed burger, add crispy bacon and a slice of aged Cheddar cheese.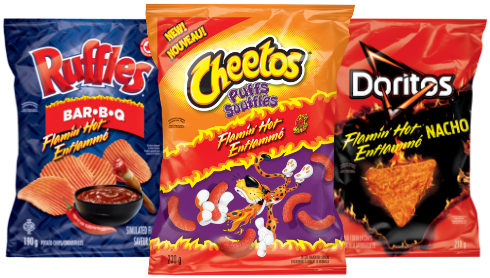 Tasty RewardsTM Members!
Get my coupon*
*Get a Flamin' Hot® Coupon! Coupons available while quantities last